Ecopia RTP System
Ecopia Rapid Thermal Processing System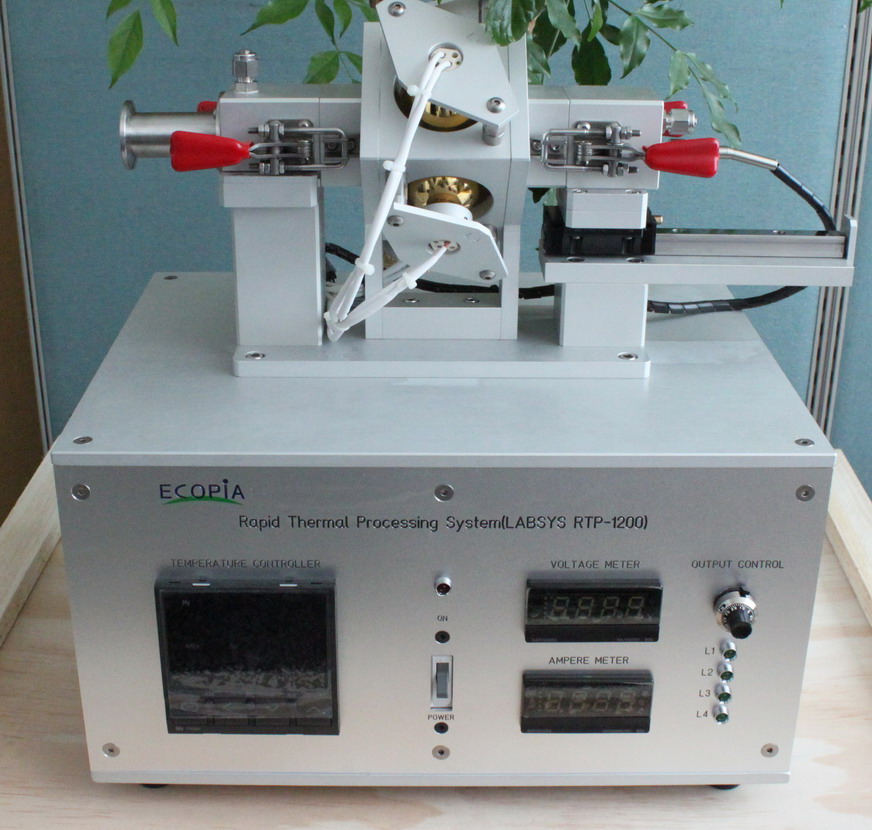 The RTP-1200 model is a relatively low cost, easy-to-use, yet powerful rapid thermal processing system which can quickly increase materials to a very high temperature using four tungsten-halogen lamps. Researchers in industry, national laboratories, and university settings can obtain accurate test data quickly while enjoying simple installation and operation. The RTP-1200 provides convenience and power at a very reasonable price.
Features and Benefits
Heat treatment in high vacuum
Heat treatment in ambient atmosphere
High accuracy temperature control
Additional cooling system not required
Compact desktop design
Very competitive price
Unit
Specification
Remark
Max sample size
mm
12 x 12mm, 15 x 15mm
Option
Maximum rising speed
°c/sec
100
Maximum Cooling speed
sec
50
1000 °c ->
400 °c
Max temp
°c
1200
Temp accuracy
°c
+/-0.3
@1000 °
Lamp power
W
600
Size
Cm
40 x 30 x 45
Weight
Kg
30
Voltage rate
V
220V, single phase
Application
Thin film deposition
Oxidize thin film on the sample
Construction analysis of thin film at high temperature
Paste material analysis
Ohmic contact formation by .i.e Ag.Au electrical conductivity material
Heat treatment after ion implantation and activating ion implantation
Melting point analysis of alloys
Characteristics
Easy to use thermal treatment in vacuum status, purge gas flow, and at ambient atmosphere
No need for additional cooling system
Minimized radiant heat through use of IR reflective panel
Easy load and unload of sample
Compact desktop design, easy to install and move
Accurate temperature control by temperature sensor located in sample loading stage
Possible to use for furnace applications requiring +/- 3°c accuracy.